Got Yourself Locked Out? We are here!
Are you locked out and you need a locksmith in Fitzrovia London? Are you locked out of your house with no spare key or locked your keys inside? Our professional locksmiths from NW Locksmith are operating really close to Fitzrovia and they can help you! If you need a locksmith in Fitzrovia London, we can come over to help! Surely, we can help to unlock & open your door really quickly when there's an emergency! Give us a call and a locksmith nearby Fitzrovia will be there in about 20 minutes: 07383010010.
It's really common in our day to be locked out in London and central London is no exception. We've got several locked out situations in Fitzrovia London. We know, it can be frustrating and it happens every day! So, whether you've locked your keys inside the house, lost them or misplaced them, these situations can cause panic among homeowners or tenants. Luckily, we can save you! Call an experienced locksmith and we'll be there in minutes! Call here: 07383010010.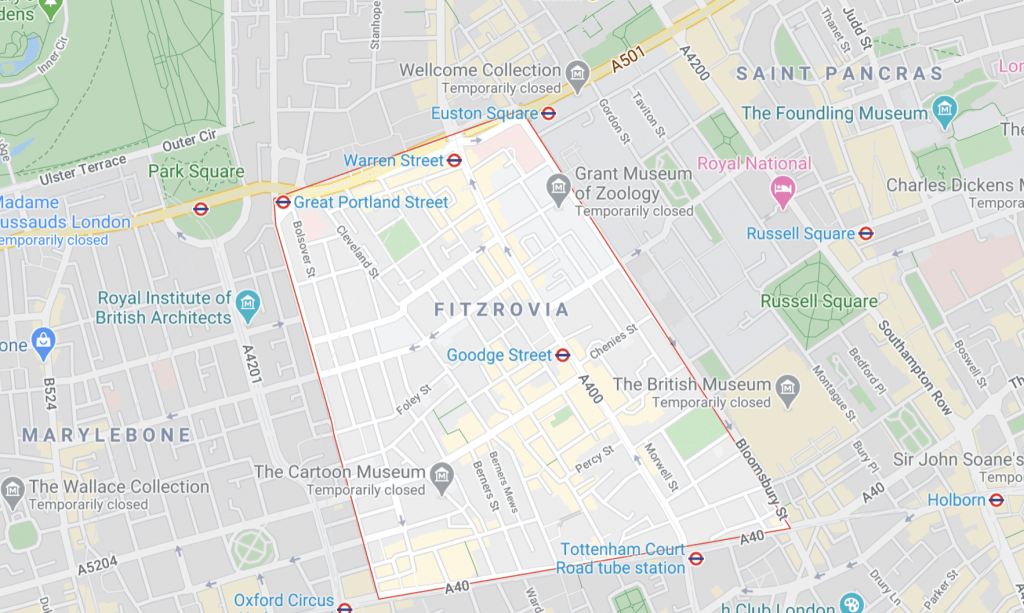 A locksmith in Fitzrovia London
Calling a locksmith in Fitzrovia can be really expensive but we are keeping it fair. We know that Fitzrovia London it's a good area to live in London but it doesn't have to be expensive when it comes to mobile locksmith service. That's why if you are calling NW Locksmith, we will give you standard prices. For our prices it mattes just the method of opening the door and the price of the parts we are using, not the area!!
Therefore, our locksmiths can fix your problems with your door and lock really fast, easy, and in a secure manner. Also, they are not causing unnecessary damage to your front door. They can extract broken keys from any type of door lock, they can change the lock or repair it if necessary. And yes, they give you spare keys too!
Your locksmith in Fitzrovia is one phone call away
So, you are locked out. First, you can not believe it. But after the first seconds, you might start pushing the door. We know, there's hope… But not a wise decision!
Please! Don't try to open the door by yourself. This way you can damage the door or the door lock and means a harder job for the locksmith. As a consequence, you can break the door/lock and it won't work properly anymore. Or maybe you will be fooled and you will think that if the door is open and all is back to normal. Be careful! Sometimes a door forced means no security and protection at all!
So, there's a simple fact: if you are locked out, you need a locksmith to help and guarantee your security. In order to avoid bigger damage to any part of the door or lock, please call the local locksmith as soon as possible. Only he can help you to unlock the door for safe and secure. A technician that has the best equipment and the necessary skills to open the door.
NW LOCKSMITH is highly trained to install and replace any type of door lock or to repair any damaged door locks. We can offer the best services in Fitzrovia London and your door will remain intact!
Call anytime and we'll be there in about 20 minutes (even less!)
We know that home lockout can occur at any hour, even in the middle of the night. No matter when you come home or from where are you getting back, we are working around the clock to help! Therefore, find here your emergency locksmith in Fitzrovia. If you are from Fitzrovia, we are nearby. With us, you don't have to wait for hours in front of your door. We will be there fast and we will help you out quickly!
5 ways To Prevent House Lockout
After a lockout, it is recommended to pay attention and try to prevent these problems if possible. Nobody wants to be lockout at all, and the second lockout in a row can be even more frustrating. There are some ways how you can ensure a lockout will never happen again in the future.
1. Hide a copy of your House Key
While it is best to avoid easy places to hide the key, stashing it in the correct places will significantly increase your chances of getting back into your house without resorting to dire measures.
You have to be really careful with this copy. A good place to keep your key can be for example a fake object (such as an ornament). You can place the key inside it, and hide it maybe… in the garden? You can also carry around with you an extra key in your purse or briefcase, or lock the key inside your electrical panel.
2. Give the Key to a family member or friend
We recommend this alternative better: protect yourself from the lockout and make a spare key. Leave this key with someone you trust – a neighbor or immediate family member. This way, you can easily access it and you won't be locked out anymore.
3. Routinely check your things
Surely, keeping a spare with you at all times is a great idea in theory, but it doesn't always happen that way. Therefore, it is best to routinely check your pockets before you leave the house.
Moreover, studies show that habits form over 1 to 2 months of daily practice, so if you develop this routine, you have a much lower risk of getting locked out statistically speaking.
4. Replace Bad Locks
It's a good idea to check your locks often in case a lockout happens. Also, if they're not turning well, or too much, then it may be time to replace or rekey them.
5. Call A Locksmith
If you're still having trouble deciding on how best to prevent house lockout, try calling a locksmith. Certainly, a professional locksmith can give you a good, reasonable estimate on repairing your lock or making a new key., For instance, NW Locksmith can usually do everything on the same day. Remember, never underestimate your home's security, especially in a dangerous neighborhood.
In conclusion, PLEASE avoid the following options.
Leave a key under the mat.
Use an in-car glove box.
Leave the key in a window ledge.
Put a spare in the mailbox.
Keep the key under plants.
More than that, whenever you face a home lockout or you need to change your door lock or key, call a locksmith. If you call us here: 07383010010.
Certainly, NW Locksmith will handle any problem in a safe and secure manner and you can feel safe in your home.